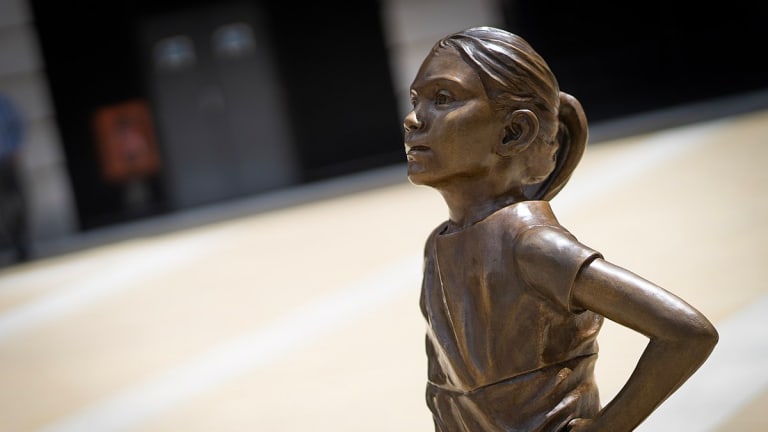 Opening Bell: 8.16.21
Aramco to India; State Street quits East 51st Street; SOFR not enough; Hindenburg short-seller hotter than, well, the Hindenburg; and more!
Aramco Is in Advanced Talks on Up to $25 Billion Reliance Deal [Bloomberg]
The Saudi Arabian firm is discussing the purchase of a roughly 20% stake in the Reliance unit for about $20 billion to $25 billion-worth of Aramco shares, the people said, asking not to be identified because the information is private. Reliance, which is backed by Indian billionaire Mukesh Ambani, could reach an agreement with Aramco as soon as the coming weeks, the people said…. It would seal more than two years of negotiations and mark Aramco's first all-stock deal since its initial public offering in 2019.
State Street, Firm Behind Wall Street's 'Fearless Girl' Statue, Is Vacating New York City Offices [WSJ]
Executives at the Boston firm told New York staffers they won't be returning to its Midtown Manhattan offices, according to people familiar with the matter. It expects to sublease the two offices near Rockefeller Center to other companies…. State Street is giving New York-based employees the option to work in other offices in New Jersey and Stamford, Conn. But the firm isn't directing New York-based staffers to spend time in those offices, letting different groups across State Street determine the mix of in-person and remote work that suits them. State Street also secured some co-working space in Manhattan for those who want to use it.
Perella Weinberg bumps salaries for London analysts to £80,000 [FN]
The US-headquartered bank has increased salaries to £70,000 for first-year analysts in London and £80,000 for those in their second year, according to people with knowledge of the rises.
This brings it in line with Goldman Sachs, which increased pay for its junior bankers in August after its main Wall Street and European rivals, but hiked salaries beyond most of its peers.
Banks Weigh Alternatives to Libor Replacement as Companies Seek Longer-Term Rates [WSJ]
SOFR may not cover all companies' needs, banks and corporate advisers say, because the benchmark lacks rates that are weeks or months in the future, making it hard for companies to plan around future interest-rate risk…. Lenders are considering making index rates such as the American Interbank Offered Rate (Ameribor) or the Bloomberg Short Term Bank Yield Index (BSBY) available as alternatives.…
Banks can't issue new financial contracts using Libor after Dec. 31, but may continue to reference it for many existing debts through June 2023.
Weak Oversight Plagues Audits of Billions in Private Assets [WSJ]
Firms that audit private entities essentially police each other, often with no public disclosure. A Wall Street Journal analysis of the system shows that auditors give top grades to one another, hardly ever find fault with the biggest accounting firms and often don't disclose failures among smaller auditors…. A significant number of the audits covered by self-regulation are flawed, industry data suggests. More than one in four audits reviewed last year fell short of professional standards, according to the American Institute of Certified Public Accountants. The AICPA said it was "likely that [recently introduced] highly complex accounting standards" contributed to this high failure rate.
Bitcoin Fans Are Suddenly a Political Force [WSJ]
While the crypto industry wasn't able to change the Senate legislation, the unified effort vividly illustrated the young industry's growing influence in Washington and finance—and gave enthusiasts a playbook for future fights…. "If there's one thing that explains what's different now and the last seven years, a lot of firms, after a lot of false starts, have hired people in D.C.," said Jerry Brito, executive director of Coin Center, a nonprofit cryptocurrency policy group founded in 2014. "We now have counterparts that we can coordinate with."
A Skeptical Stock Analyst Wins Big by Seeking Out Frauds [NYT]
[Nathan] Anderson's five-person firm… takes its name from the German airship that blew up in 1937…. "I'm glad we're starting to make a real-world dent," he added. "If the only impact was stock prices moving around, the work would be far less satisfying…."
The boom in SPAC deals — such companies have raised nearly $200 billion since the beginning of 2020 — has provided rich material for Hindenburg to investigate….
"Nate's killing it right now," said [Carson] Block of Muddy Waters. He added that Hindenburg found issues with Nikola that his own firm had looked for and missed….
"There are just so many outrageous companies," Mr. Anderson said. "Some of these companies we have looked at, they don't have any revenues at all."