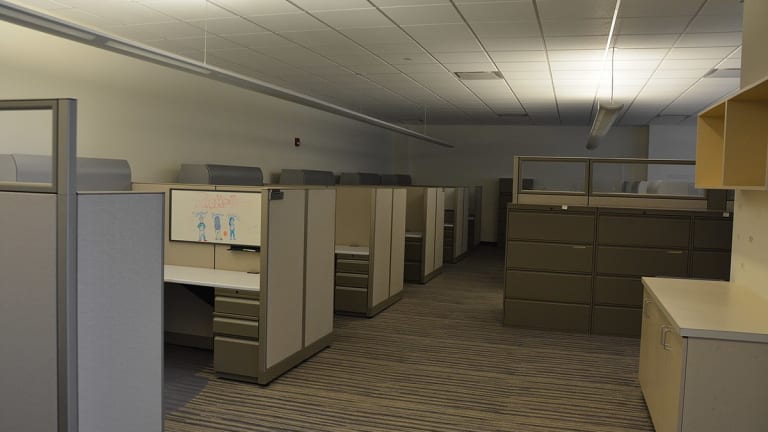 Opening Bell: 10.12.21
Only two in three desks now empty; China prepares to bash banks; IMF loses confidence in global growth but not in director; and more!
Return of Office Workers Reaches Pandemic High as Employees Trickle In [WSJ]
The number of workers returning to traditional office space has been edging higher since the week of Labor Day, when an average of 31% of the workforce was back in the 10 major cities monitored by Kastle Systems. The average hit 35% during the week that ended Oct. 1 and 36% during the week that ended Oct. 8, a new high during the pandemic period, said the security company that tracks access-card swipes…. Those return figures are still modest compared with the lofty expectations of the spring, when rising vaccination rates led many companies to say that a majority of their employees would be back at their desks at least part of the time in the early fall. Manhattan employers projected that 62% of their workers would be in the office by September, according to a survey released in June by the Partnership for New York City.
Loans Will Be the Key to Banks' Future Fortunes [NYT]
Loan growth was way down at the beginning of the pandemic and has so far been slow to recover. Consumers and businesses benefited significantly from government stimulus efforts, which reduced demand for credit and helped them pay off their debts or amass more cash…. "We believe that we have reached the inflection point," [Goldman Sachs analyst Richard Ramsden] wrote. "We see the outlook as increasingly encouraging."
Xi Jinping Scrutinizes Chinese Financial Institutions' Ties With Private Firms [WSJ]
According to people with knowledge of the plan, the inspections, announced in September with few details, focus on whether state-owned banks, investment funds and financial regulators have become too chummy with private firms, especially some that have recently landed in Beijing's crosshairs, such as property giant China Evergrande Group, ride-hailing company Didi Global Inc. and financial-technology firm Ant Group…. Starting this month, graft-busters from the Central Commission for Discipline Inspection are fanning out through the offices of the 25 state institutions, reviewing files of their lending, investment and regulatory records and demanding answers to how certain deals or decisions related to the private firms were made, according to the people familiar with the plan.
These people said individuals who are suspected of having engaged in inappropriate dealings are likely to be formally investigated by the Communist Party and potentially charged later, while any entities found to have gone astray would be disciplined.
IMF cuts its global growth forecast, citing supply disruptions and the pandemic [CNBC]
"This modest headline revision masks large downgrades for some countries," Gita Gopinath, chief economist at the IMF, said in an accompanying blogpost…. The United States is one of the countries in this position; the IMF has cut its growth estimates for the country this year by 1 percentage point to 6%. The growth outlooks for Spain and Germany were also cut by 0.5 percentage points each, and Canada's was reduced by 0.6 percentage points.
IMF expresses 'full confidence' in the leadership of Kristalina Georgieva [CNBC]
The fund said information presented during the review "did not conclusively demonstrate that the Managing Director played an improper role."
Separately, Treasury Secretary Janet Yellen said in a statement that without "further direct evidence with regard to the role of the Managing Director there is not a basis for a change in IMF leadership…."
"The U.S. believes proactive steps must be taken to reinforce data integrity and credibility at the IMF," read the statement.
Elon Musk trolls Jeff Bezos as he widens his lead as the richest person on Earth [CNN]
Musk tweeted a second place medal at Bezos early today…. Musk gained $8.6 billion since Friday's closing and more than $52 billion year-to-date, the Bloomberg Billionaires Index says.