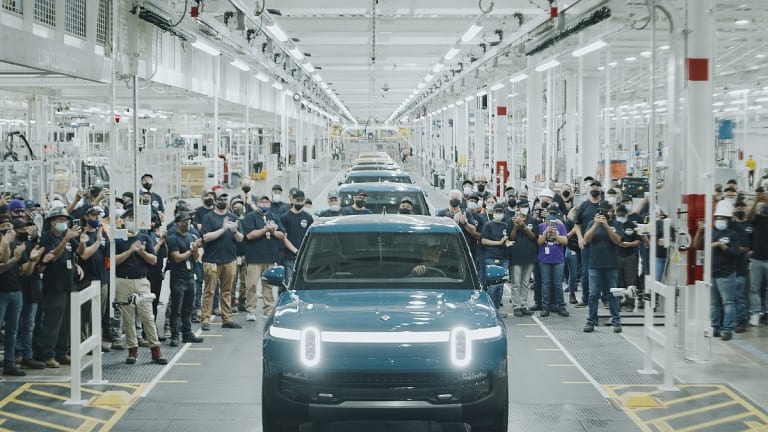 Opening Bell: 11.10.21
Rivian shares roll off the line; one good thing about inflation; Michael Burry dreams of Tesla bust; and more!
Rivian is America's biggest IPO since Facebook [CNN]
The initial public offering is the largest globally of the year, and the 12th largest listing ever, according to data provider Refinitiv. With an initial valuation of more than $77 billion, Rivian would be worth more than Honda and almost as much as Ford itself…. "Rivian's order flow and backing from Amazon are key validating signals for investors," said Asad Hussain, senior emerging technology analyst at PitchBook.
U.S. jobless claims slip to 267,000 as layoffs fall to record lows [MarketWatch]
The U.S. economy is accelerating again and businesses have more than 10 million jobs to fill, but they can't find enough workers owing to one of the biggest labor shortages in decades…. Altogether, 2.57 million people were reportedly receiving jobless benefits through state or federal programs as of Oct 23. Just under 2 million were collecting benefits before the pandemic.
Tax Brackets Will Be Higher in 2022 Due to Faster Inflation, IRS Says [WSJ]
The threshold for the top federal income-tax bracket in 2022 will climb by nearly $20,000 next year for married couples, and that 37% rate will apply to income above $647,850, the Internal Revenue Service said Wednesday as it implemented automatic tax-code updates to reflect faster inflation in 2021…. The current tax plans moving through the House and Senate wouldn't change where the tax brackets are set, and they wouldn't change the basic income-tax rates that have been in place since the 2017 tax law.
'The Big Short' investor Michael Burry says Tesla stock could plunge 90% - and notes Elon Musk said it was overpriced at $160 last year [BI]
"Can $TSLA fall 80, 90%? After 2000, many high flyers did. $AMZN fell 95% 2 decades ago, changed its whole biz, and thrived much later," Burry tweeted…. Tesla stock has slumped 16% over the past two trading days, erasing nearly $200 billion from its market capitalization. The sell-off followed Musk's launch of a Twitter poll to determine whether he should sell 10% of his Tesla stock. The poll garnered 3.5 million votes, and 58% of the respondents voted for a sale.
More pain likely for hedge funds as leveraged investors unwind wrong-way bond market bets, traders say [MarketWatch]
"We're just starting to hear about losses for hedge funds now," said David Petrosinelli, a senior trader at InspereX in New York. "But the unwinds are starting from a large net-short position, which needs to be covered with purchases of the 10-year Treasury, so I think there is more pain coming…."
ExodusPoint Capital Management and Balyasny Asset Management are two hedge funds that have reportedly nursed losses, according to the Wall Street Journal. Two more are said to be Rokos Capital Management and Alphadyne Asset Management, Bloomberg News reported. Representatives of the firms couldn't immediately be reached.
Only 28% of New York office workers are back in the office [CNBC]
Employers expect that 49% of office workers will return on an average weekday by January, according to a survey of 188 big employers in Manhattan by the Partnership for New York City…. Office vacancy rates in New York City are now at a 30-year high of 18.6%.