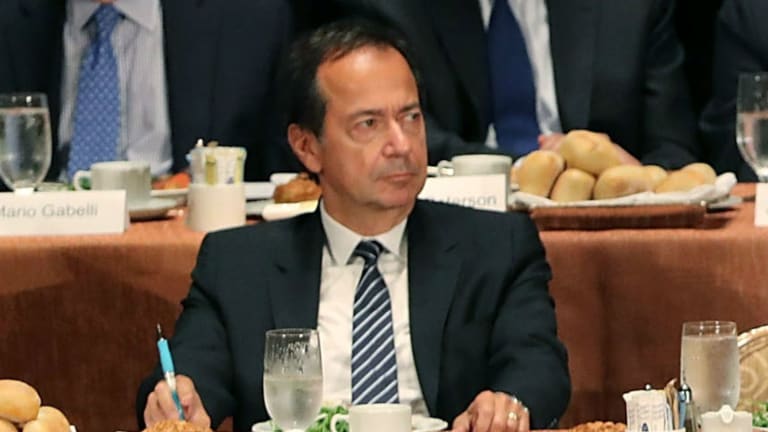 Opening Bell: 11.18.21
Deutsche debt; City saved; no proof no problem; John Paulson should have waited a little longer to buy that house; and more!
Deutsche Bank's Bond Deal Shows How to Win Hedge Funds Back [Bloomberg]
Deutsche Bank got its lowest-ever yield on new deeply subordinated perpetual bonds it sold this week, which are part of its additional tier one capital…. It… reflects Deutsche Bank's restructuring under Chief Executive Officer Christian Sewing. There's plenty to improve before it approaches an attractive return for shareholders: Costs are too high in the retail bank; it needs to finish unloading unwanted assets; and an additional restructuring charge last quarter was unwelcome. But Sewing has managed to cut underlying expenses and to rebuild capital to the point where it can talk about potentially buying back stock after 2022. That has been unthinkable for years.
London Spared Brexit Pain as EU Avoids Fund Delegation Overhaul [Bloomberg]
The suggested changes aren't the root-and-branch overhaul that some in the industry feared might emerge from the review of the Alternative Investment Fund Managers Directive and would have undermined one of the pillars of the City of London.
It means EU-based funds can still be managed from external financial centers, at a time when some EU officials are pushing for more financial infrastructure to move inside the bloc after Brexit. The proposal to retain much of this practice comes at a strained period in the EU's relationship with the U.K., which could risk trade reprisals by suspending part of its divorce agreement.
Suspicious Theranos Test Didn't Stop Fund's $96 Million Buy-In [Bloomberg via Yahoo! Finance]
The fund manager said he was surprised that his 2014 blood test relied on a conventional venous draw and not the smaller finger-stick method he had been led to believe was central to the company's revolutionary model. The results also took more than four hours to get back, much longer than what Theranos had told him./In the end, the fund made the fateful decision to buy $96 million of private shares in Theranos on behalf of institutional investors, pension funds and a "friends and family fund" for less wealthy individuals.
Hedge Funds Seek Riches in California's Carbon Market [Bloomberg]
"Seeing EU carbon prices rise in the first quarter of this year was a kick in the butt for people to start paying attention to California," said Casey Dwyer, a portfolio manager at Andurand Capital Management, where bets on EU pollution prices have helped fuel returns this year. "There's a clear price path forward: higher. It's something we have an immense amount of confidence in."
The most over-hyped job in hedge funds [efinancialcareers]
Without p&l responsibility, execution traders are relatively unappreciated. They are also seriously underpaid when compared to hedge fund portfolio managers. Given the hype about super-fast, fully automated, trading algorithims you might be surprised to learn that there are still humans engaged in such a mundane task.
Billionaire John Paulson and wife fighting over $110M Palm Beach mansion [Page Six]
The billionaire investor is locked in a divorce battle with his estranged wife, Jenny Paulson, over their massive portfolio of luxury properties — and the most contentious fight concerns their $110 million estate in Palm Beach…. The posh mansion on prestigious South Ocean Boulevard is the crown jewel of their massive real estate holdings, and both John and Jenny want to get hold of it so that they can winter there among their circle of super-wealthy NYC snowbird friends….
The divorce took Jenny by surprise, with sources telling us that she found out he had filed in Suffolk County Court by reading about it on Page Six.