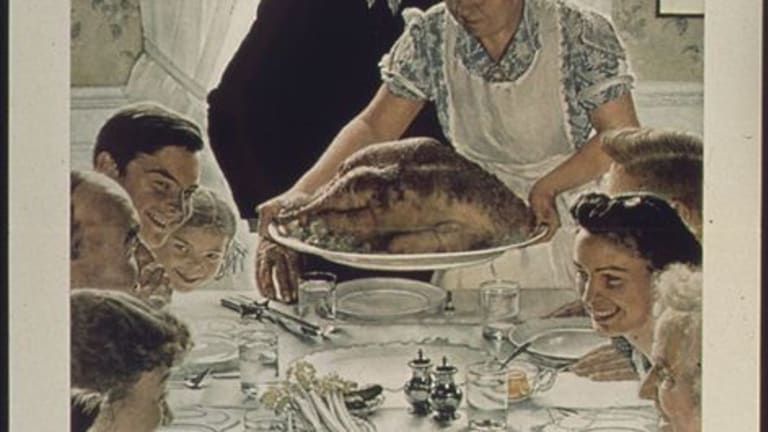 Holiday Bell: 11.24.21
Back in the autumn of '69; Jamie Dimon may not be going back to Hong Kong any time soon; stubbornness to be thankful for; and more!
Weekly jobless claims post stunning decline to 199,000, the lowest level since 1969 [CNBC]
The report easily beat Dow Jones estimates of 260,000 and was well below the previous week's 270,000…. The decline appeared at least in part to be due to seasonal adjustments. Unadjusted claims totaled 258,622, which actually was an increase of 7.6% from the previous week….
The total of those receiving benefits under all programs fell sharply, down by 752,390 to 2.43 million, according to data through Nov. 6.
Jamie Dimon says he regrets joking about the Chinese Communist Party [CNN Business]
"The Communist Party is celebrating its 100th year. So is JPMorgan," he said, referring to the bank's recent celebration of a century of operation in China. "And I'll make a bet we last longer."
"I can't say that in China," Dimon added with a chuckle. "They probably are listening anyway…."
"I regret and should not have made that comment. I was trying to emphasize the strength and longevity of our company," he said.
A JPMorgan spokesperson said the bank was committed to China and that Dimon had made clear during the discussion in Boston that "China and its people are very smart and very thoughtful."
Ray Dalio's Bridgewater Raises $1.25 Billion for Its Largest China Fund Yet [WSJ]
The newest fund comes in the form of a trust product overseen by state-owned China Resources Trust, with Bridgewater's China subsidiary serving as the investment adviser…. Bridgewater's China subsidiary launched its first private fund in October 2018. That fund has averaged a 19% annual return over the past three years, according to the recent marketing documents.
Wall Street Grudgingly Allows Remote Work as Bankers Dig In [NYT]
Wall Street is in revolt. Across the financial industry, at firms big and small, workers are slow-walking their return to the office. Bankers for whom working from home was once unfathomable now can't imagine going back to the office full-time. Parents remain worried about transmitting the coronavirus to their children. Suburban dwellers are chafing at the thought of resuming long commutes. And many younger employees prefer to work remotely…. Some large banks ordered their employees to begin returning to the office over the summer. Top bosses have been saying for months that their clients should be catered to in person, that banking is an apprenticeship business where juniors learn the ropes by observing their seniors, and that teamwork benefits all. Their orders have had mixed impact, leaving bosses flummoxed — and in some cases, vexed.
Elon Musk sells another $1 billion of Tesla stock; nearly $10 billion sold this month [MarketWatch]
According to filings with the Securities and Exchange Commission, Musk made the sales after exercising options to buy 2.15 million shares…. Assuming Musk intends to sell 10% of his shares, he's more than halfway there. Before the sales began, his 10% stake amounted to about 17 million shares — so after Tuesday's sales, he has about 7.9 million shares to go.
Rivian's IPO Enriched Hedge Fund Third Point [Barron's]
Third Point has made an estimated profit of as much as $300 million, according to the report. It isn't clear if that is a realized gain—if Third Point has sold or is still holding Rivian shares.