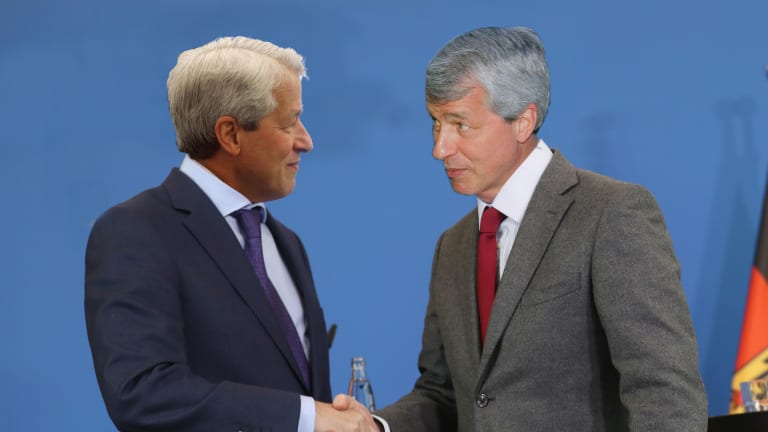 Opening Bell: 2.16.22
Dimons and tigers and meta… you get the idea; $4.5 billion heist falls on $500 gift card; and more!
There's a Portrait of Jamie Dimon Hanging in JPMorgan's Metaverse Lounge [Bloomberg]
Visitors are greeted by a digital portrait of Jamie Dimon and a roaming tiger. Walk upstairs and you'll see an executive's presentation on the crypto economy…. JPMorgan is the first Wall Street bank to launch a presence in the metaverse, joining a diverse group of brands to do so including Samsung and the Barbados embassy.
Fed to raise rates 25 bps in March but calls for 50 bps grow louder [Reuters]
Almost a quarter of those respondents, 20, forecast a 50-basis-point move to 0.50-0.75% following debate in markets over the past week after Fed officials discussed the merits of such a move. Rate futures are pricing in more than a 50% likelihood of a half-point hike…. "The risk is that at some point ... they'll shift to hiking 50 basis points, because it's very unusual for a central bank to have a zero interest rate in the face of the kind of news we're looking at right now," said Ethan Harris, head of global economics research at Bank of America Securities, referring to inflation.
U.S. Retail Sales Jump 3.8% as Shoppers Shrug Off High Inflation [WSJ]
"If you look at consumers' financial position and the strength of the labor market, you have to say that in general it's pretty good," Joshua Shapiro, an economist at consulting firm Maria Fiorini Ramirez Inc., said…. "2022 is going to feature this very delicate rebalancing act for the entire economy, and in particular for U.S. consumers living in this world where prices are higher and purchasing power is more constrained," said Gregory Daco, chief economist at consulting firm EY-Parthenon.
Senate Republicans Stall Crucial Vote on Fed Nominees [NYT]
Republicans did not show up for a committee decision that would have advanced the nominees to the full Senate for a confirmation vote. Because a majority of the Senate Banking Committee's members need to be physically present for such votes to count, their blockade effectively halted the process…. "The Republicans are playing hardball because they can," said Ian Katz, the managing director at Capital Alpha Partners. "At the least, it delays [Sarah Bloom Raskin's] confirmation. It could have the ultimate effect of killing it."
A Crucial Clue in the $4.5 Billion Bitcoin Heist: A $500 Walmart Gift Card [WSJ]
That card and more than a dozen others like it, including for Uber, Hotels.com and PlayStation, were linked to emails and cloud service providers belonging to a young Manhattan couple, Ilya "Dutch" Lichtenstein and Heather R. Morgan, according to a criminal complaint…. The discoveries would have been less likely to happen around the time of the hack, when bitcoin was far outside the mainstream of the financial world….
At a hearing on Monday, a judge ordered Mr. Lichtenstein to be held in jail but allowed Ms. Morgan to be released to home incarceration on a $3 million bond package while they await trial.
Executives Are Quitting to Spend Time With Family … Really [NYT]
Many of the executives leaving top jobs are fortunate enough to quit without having to worry about how to pay their bills, and they say their decisions aren't driven by finances. Instead, they are propelled by a mix of needing a break, reassessing the role of work in their lives and wanting to pursue new ventures….
"I had no life outside of it," [Lauren Letta] said. "I felt like I started to lose who I was. It was a point in my career when I knew if I don't leave now, I never will."