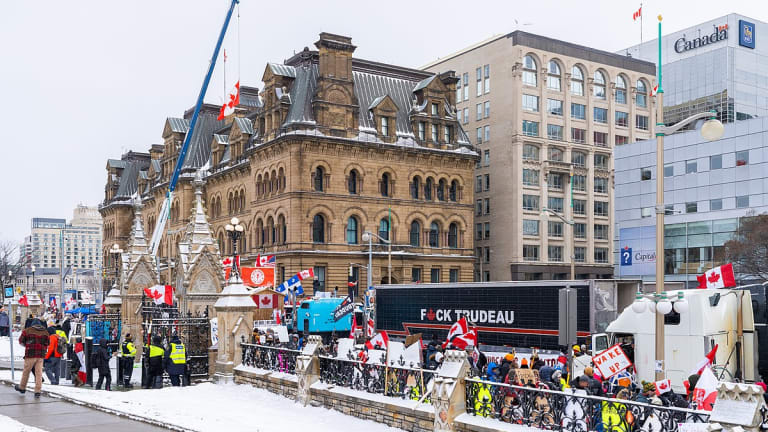 Opening Bell: 2.18.22
The first $4.2 billion is the hardest (or is it?); Canada's banks cut off protestors; FBI gets crypto team; and more!
Allianz Hedge Fund Implosion Results in $4.2 Billion Charge [Bloomberg via Yahoo!]
Allianz SE, facing multiple lawsuits and regulatory probes tied to the collapse that year of its Florida-based hedge funds, took an unprecedented, 3.7 billion-euro ($4.2 billion) charge to cover a settlement reached Friday morning with the vast majority of investors in the funds.
In a sign of more pain to come, the German insurance and financial-services firm, which also owns bond giant Pacific Investment Management Co., warned that ongoing probes by U.S. Securities and Exchange Commission and Department of Justice are at a "sensitive" stage and that it couldn't yet estimate the final price tag.
Canada's Banks Pressed Into Effort to Quell Protests [WSJ]
Financial institutions have "taken action" under an economic order that requires them to stop providing financial services to individuals and entities involved in disruptive protests and blockades, Canadian Deputy Prime Minister Chrystia Freeland said Thursday…. Under the emergency order, Canada's banks have had to repurpose tools meant to stop foreign terrorism and drug trafficking against domestic demonstrators….
Banks aren't welcoming their conscription into the unprecedented effort, said a person in the Canadian banking industry familiar with the matter, describing an early period of confusion about the order.
Inflation Should Moderate in Coming Months, White House Economist Says [WSJ]
"We expect inflation to moderate over the coming year, because we believe that the factors that have been causing high inflation will begin to ease as Covid cases gradually decrease," Cecilia Rouse, chair of the White House Council of Economic Advisers, said during a Senate Banking Committee hearing…. "We expect that as people come back into the workforce as the pandemic is under control, that will ease some constraints. Getting people back to work will help on the supply side," Ms. Rouse said. "And as the pandemic is addressed around the world, in particular, that will help bring more goods as well."
FBI to form new cryptocurrency unit [The Hill]
Prosecutor Eun Young Choi, who has a background in cyber-related crimes, will serve as the National Cryptocurrency Enforcement Team's first director…. The FBI's new Virtual Asset Exploitation Unit will be made up of cryptocurrency experts to help provide analysis, support and training across the FBI. The team will also innovate its cryptocurrency tools to stay ahead of future threats, according to the department.
Senate Passes Bill Requiring Judges to Promptly Post Stock Trades [WSJ]
The law would require the judiciary to post both the stock-trade reports and annual disclosure report forms online within 90 days of being filed. Currently, annual reports aren't due until May of the following reporting year and periodic stock-trade reports aren't required at all…. "Federal judges should never have been excluded from the STOCK Act's disclosure requirements, and this oversight has resulted in conflicts of interest that erode public trust in our judiciary," Sen. [John] Cornyn said in a statement.
Short-selling does not count as a carbon offset [FT]
If investors really care about combating climate change, they will need to understand and ultimately account for both the financial and non-financial portfolio effects of their investments. An approach that focuses purely on financial impact ignores the fundamental mission of the net-zero push to reduce carbon emissions in the atmosphere.
Netting out short and long exposures is no longer viable when you consider the impact the portfolio would have on the environment. Shorting a high carbon-emitting company may provide financial de-risking benefits, but it simply does not reduce the tonnes of CO2 released into the atmosphere.