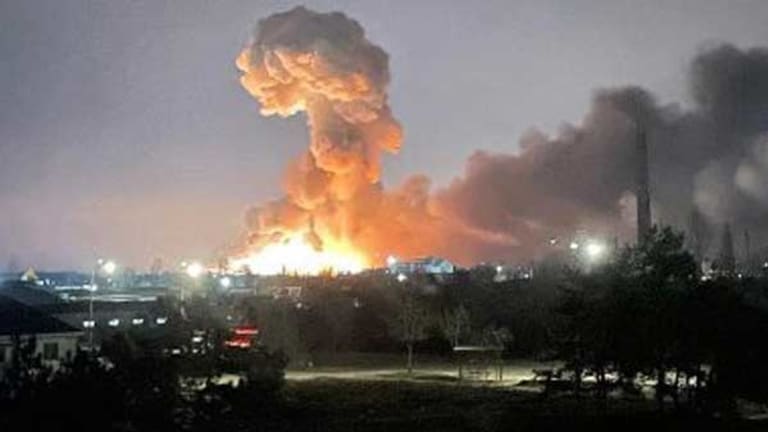 Opening Bell: 2.24.22
Well, this isn't great; healthcare deal market on life support; Trump-ed up charges; and more!
Russian Attack on Ukraine Roils Markets [WSJ]
The Dow Jones Industrial Average fell about 547 points, or 1.7%, on course to close in correction territory. The S&P 500 dropped 0.8%; it reached correction territory earlier in the week…. The Cboe Volatility Index rose to the highest level in over 15 months….
"Who wants to be dealing with high inflation, prospects of interest rates hikes and war in Europe?" said Fiona Cincotta, senior financial markets analyst at City Index. "It just seems like it's too much for investors to be able to swallow right now…."
Brent crude oil, the global benchmark, topped $100 a barrel for the first time since 2014…. Natural-gas futures in Europe surged 50% and benchmark prices for aluminum and nickel, two metals of which Russia is a major producer, rose to their highest levels in about a decade….
Ken Griffin's Citadel Is Pulling Back Most of Its $2 Billion Melvin Capital Investment [Bloomberg via Yahoo!]
Citadel funds and firm partners asked for $500 million back last month after redeeming $1 billion last year, according to a person familiar with the matter. The January redemption will be paid out by the end of March.
The move comes after Melvin ended 2021 with a 39% loss and fell an additional 15% in January…. Point72 hasn't redeemed its investment, a person familiar said.
Justice Dept. Sues to Block $13 Billion Deal by UnitedHealth Group [NYT]
The agency argued that a deal by UnitedHealth to buy the health tech firm Change Healthcare would give UnitedHealth sensitive data that it could wield against its competitors in the insurance business…. The deal is the latest transaction to run into opposition from the Biden administration, which has made countering corporate consolidation a central part of its economic agenda….
The companies have said that the acquisition will improve efficiency in the industry. They also explored selling the part of Change Healthcare that the Justice Department said would give UnitedHealth a new monopoly.
Biotech IPOs Slow After Record-Breaking 2021 [WSJ]
Seven biotech companies have gone public in the U.S. this year as of Feb. 22, compared with 21 as of the same date in 2021…. Investors have been inundated with biotech IPOs, and there haven't been a significant number of standout clinical-trial successes recently, said Rahul Chaudhary, head of healthcare equity capital markets for investment bank SVB Securities LLC. With the shares of several biotechs trading down since they went public, investors don't necessarily have to buy into IPOs when seeking attractive opportunities, he added.
Two top prosecutors investigating Trump Organization resign [NBC News]
Carey Dunne, who championed the legal fight to get the former president's tax returns and tax related documents all the way to the Supreme Court, twice, and won, has left the office along with Mark Pomerantz, a former mafia prosecutor who was recruited from private practice to help lead the investigation…. The Times, citing two sources, reported that the resignations came after [new Manhattan District Attorney Alvin] Bragg began to back away from the investigation and had paused grand jury testimony.
Trump Organization and Finance Chief Seek Dismissal of Fraud Charges [NYT]
Mr. Trump's lawyers, Susan R. Necheles, Alan S. Futerfas and Gedalia M. Stern, said that the prosecutors had "targeted Donald Trump's associates and companies for investigation and prosecution based on their animus toward his speech and political views." They listed statements Ms. James made about Mr. Trump while she was running for office in 2018 and said that the district attorney had embraced Ms. James's investigation, despite knowing it was "motivated by illicit animus…."
Such "selective prosecution" arguments often fall flat with judges, but the lawyers for the Trump Organization and Mr. Weisselberg also argued that the district attorney's office had failed to meet a legal deadline to file some of the charges and that prosecutors lacked sufficient evidence to support the case.