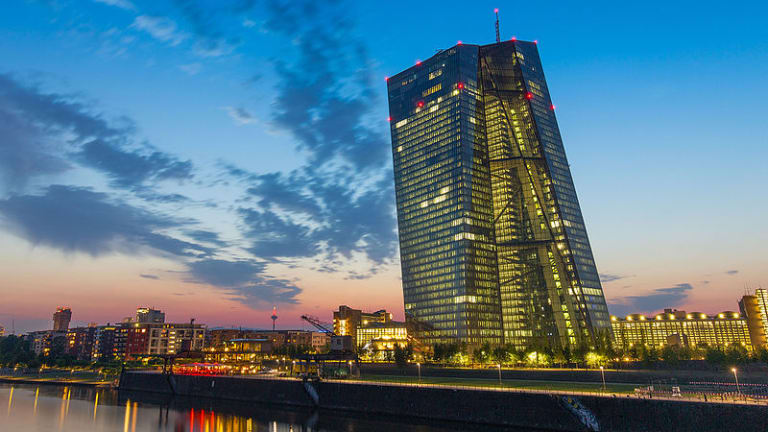 Opening Bell: 4.14.22
ECB stays the course; Yellen's yellin' at China; crypto mortgages because why not? And more!
ECB confirms plans to end bonds buys in third quarter [Reuters]
Interest rates will, however, only go up "some time" after the end of bond buys and they will be gradual, the ECB added…. The ECB has bought nearly 5 trillion euros of public and private debt since 2015, all with the aim of rekindling inflation, which undershot the bank's 2% target for years after the bloc's debt crisis.
But inflation has unexpectedly shot up in recent months, leaving policymakers in a dilemma as they try to reconcile two opposing economic forces.
Yellen Talks Tough on China, Warning of Fallout Over Russia Ties [Bloomberg]
"The world's attitude towards China and its willingness to embrace further economic integration may well be affected by China's reaction to our call for resolute action on Russia," she said.
Yellen backed the strategy of "friend-shoring," where supply chains depend on allies rather than "countries where we have geopolitical tensions."
CLOs Face Pain From Looming Risk of Leveraged Loan Downgrades [Bloomberg via Yahoo!]
Around a quarter of the loans in the S&P LSTA Leveraged Loan Index are rated B-, the lowest level that many money managers can easily buy. That's the highest proportion on record, according to Barclays Plc.
If those loans are downgraded by at least one notch in another downturn, their prices could plunge, as the biggest buyers of the debt are effectively forced to sell their holdings…. Barclays analysts aren't forecasting a wave of loan downgrades, or trouble for CLOs, in the near term. There have been more upgrades than downgrades so far this year, as corporate earnings continue to recover from the pandemic.
CLSA proposes moving flagship investor forum from Hong Kong to Singapore [FT]
CLSA's proposal to move the event, typically attended by 1,500 institutional investors from around the world, highlights the disruption caused by Hong Kong's strict pandemic control measures…. Relocating the conference "makes commercial sense", the person said, "but it's in Beijing's hands. It is not a straightforward political decision".
Crypto Mortgages Test Home Buyers' Appetite in Digital-Currency World [WSJ]
Milo, a fintech company in the lending business, made the first crypto home loan in March, when it provided a 30-year mortgage in bitcoin for a Miami duplex…. "Between crypto millionaires who don't want to sell their cryptocurrency and foreign buyers who have trouble entering the market, we see a huge demand," says Joe Haggenmiller, head of markets for XBTO.
Quartz, the business news site, drops its paywall. [NYT]
"Quartz's mission is to make business better, and our journalism is focused on that," Zach Seward, the chief executive, said. He added, "The more we think about the best way to accomplish that mission, it seems clear to us that it is by making that journalism, all of those resources, as widely available to as many people as we can…." He added that advertising still made up most of the company's revenue, allowing it to turn off the paywall, which had been in place since 2019.