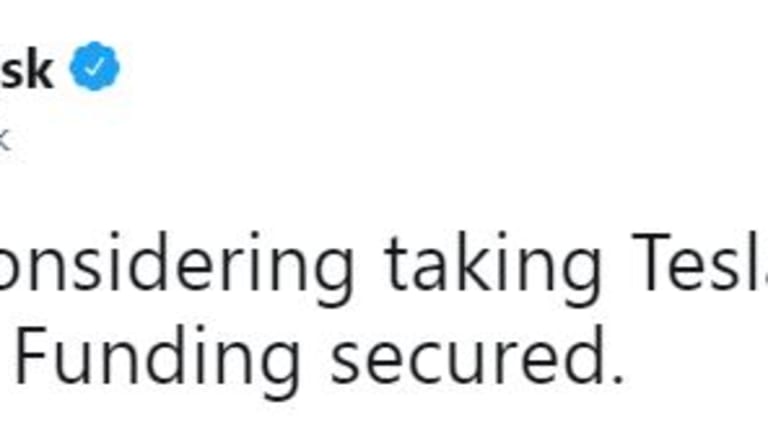 Opening Bell: 4.22.22
Funding secured; Evans exits; real pollution for fake money; Singapore's not-welcome mat; and more!
Elon Musk says he has lined up $46.5 billion in financing for Twitter deal [CNN]
Musk said he has commitment letters to finance the deal, including two debt commitment letters from Morgan Stanley and other unnamed financial institutions and one equity commitment letter from himself, according to a filing with the Securities and Exchange Commission on Thursday…. Musk previously found himself in hot water after he claimed on Twitter in 2018 that he had secured financing to take Tesla private at $420 per share, when the agency said he in fact did not.
Chicago Fed President Charles Evans to retire in early 2023 [CNBC]
Long one of the Fed's most consistent policy doves, or in favor of lower rates and more accommodation, Evans, 64, did not elaborate on why he was stepping down…. Evans recently said he believes current Fed policy on interest rates is "wrong-footed" and will need to adapt. He said last month that the Fed should be moving toward a more neutral monetary policy certainly by the end of the year.
New York Is Battleground for Crypto Mining Fight [WSJ]
The bill would place a two-year moratorium on reactivating fossil-fuel power plants for off-the-grid cryptocurrency mining…. In New York, Democratic Assemblywoman Anna Kelles said the reactivation of the Greenidge power plant in the Finger Lakes town of Dresden, N.Y., inspired the moratorium legislation. In 2014, private-equity firm Atlas Holdings LLC bought the coal-fired facility, which had been shut down because it was economically unattractive to operate. Its subsidiary, Greenidge Generation Holdings Inc., repowered the plant with natural gas and uses up to 44 megawatts for on-site crypto-mining servers.
Digital Freight Broker Convoy Weighs Potential IPO After Hitting $3.8 Billion Valuation [WSJ]
Investment management firm Baillie Gifford & Co. and funds and accounts advised by T. Rowe Price Associates Inc. led the funding round. New investor Park West Asset Management LLC also participated, along with other new and existing investors, according to Convoy…. "We will be putting ourselves in the position over the course of the next few years to be a public company, if that's the right thing for us at the time," [COO Mark Okerstrom] said. "Right now, we're pretty focused on organic growth."
Expat Bankers Fleeing Hong Kong See No Easy Escape to Singapore [Bloomberg]
Stricter visa requirements, hiring restrictions and other bureaucratic road blocks mean that the influx of bankers into Singapore from Hong Kong in recent months has been more of a trickle than a flood…. "It's harder to get people approved these days and this 'hire local' push is a real thing," said Stephen Diggle, a former hedge fund manager who has lived in Singapore for two decades and now runs a family office. "You can't bring 40 people here because they wouldn't get work permits…."
"People with families who are a bit advanced in their careers are thinking, 'what am I doing here?' Why am I in a place which is unfriendly and unwelcoming?'" said Sreedhar, whose firm runs about $2 billion. "It should have been the other way around," he said. "Singapore could have attracted all the talent from Hong Kong."
Jeffrey Epstein, a Rare Cello and an Enduring Mystery [NYT]
It was the cello that became a recurring motif in Mr. Epstein's self-told life story, starting after he and a friend backpacked in Europe in the early 1970s. Among the stories Mr. Epstein later recounted was playing the piano for Jacqueline du Pré, the British cello virtuoso. In Mr. Epstein's telling, he met Ms. du Pré in 1971 while visiting London. Ms. du Pré enjoyed the patronage of Queen Elizabeth II, and it was through the cellist that Mr. Epstein said he'd gained access to members of the British royal family, forging an especially close friendship with Prince Andrew…. In 2010, as Mr. Epstein was trying to reconstitute his orbit of the rich and powerful, he called her. "I need to buy a cello," Mr. Epstein said abruptly, asking if she would enlist Mr. DeRosa in the search. When Mr. Epstein next spoke to Mr. DeRosa, he explained that he was buying a cello for a young Israeli cellist. "Go find one," he ordered, then hung up.