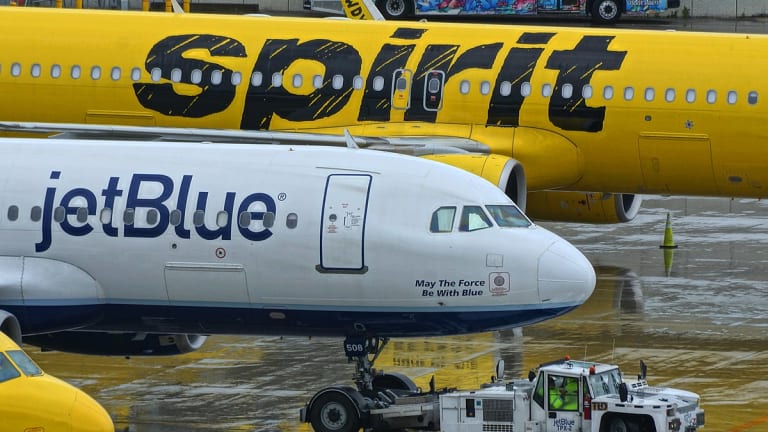 Opening Bell: 7.28.22
It's starting to look like a recession; build back a bit; JetBlue's got Spirit; Jack Ma gives up; and more!
GDP fell 0.9% in the second quarter, the second straight decline and a strong recession signal [CNBC]
A separate report Thursday showed that layoffs remain elevated. Initial jobless claims totaled 256,000 for the week ended July 23, a decline of 5,000 from the upwardly revised level of the previous week but higher than the Dow Jones estimate of 249,000, according to the Labor Department…. "It really was to script," Zandi said of the report. "The only encouraging thing was that inventories played such a large role. They won't play the same role in the coming quarter. Hopefully, consumers keep spending and businesses keep investing and if they do we'll avoid a recession."
In a major boost to Democrats, Manchin and Schumer announce deal for energy and health care bill [CNN]
While many details have not been disclosed, the measure would invest $369 billion into energy and climate change programs, with the goal of reducing carbon emissions by 40% by 2030, according to a one-page fact sheet. For the first time, Medicare would be empowered to negotiate the prices of certain medications, and it would cap out-of-pocket costs at $2,000 for those enrolled in Medicare drug plans. It would also extend expiring enhanced subsidies for Affordable Care Act coverage for three years…. To raise revenue, the bill would impose a 15% minimum tax on corporations, which would raise $313 billion over a decade…. The current deal also aims to close the carried interest loophole, which allows investment managers to treat their compensation as capital gains and pay a 20% long-term capital gains tax rate instead of income tax rates of up to 37%.
JetBlue agrees to buy Spirit for $3.8B after bidding war [AP]
Spirit and Frontier announced their plan to merge in February, and Spirit's board stood by that deal even after JetBlue made a higher-priced offer in April. However, Spirit's board could never convince the airline's shareholders to go along. A vote on the merger was postponed four times, then cut short Wednesday when Spirit and Frontier announced they were terminating their agreement, which made a Spirit-JetBlue coupling inevitable.
Jack Ma Plans to Cede Control of Ant Group [WSJ]
Diminishing his ownership could put back a potential revival of Ant's IPO for a year or more. Chinese securities regulations require a timeout on public listings for companies that have gone through a recent change in control…. The need to end Mr. Ma's control at Ant gained new urgency as the souring regulatory environment spurred Ant and Alibaba to cut their ties. On Tuesday, Alibaba revealed seven top Ant executives had stepped down from the Alibaba Partnership, the top echelon of management at Alibaba and its subsidiaries. The two companies also terminated long-running commercial and data-sharing agreements that had given Alibaba an edge.
Mortgage company owned by Warren Buffett fined for race discrimination against homebuyers [AP via CNBC]
Trident Mortgage Co., a division of Berkshire Hathaway, deliberately avoided writing mortgages in minority-majority neighborhoods in West Philadelphia; Camden, New Jersey; and in Wilmington, Delaware; the DOJ and the Consumer Financial Protection Bureau said in their settlement with Trident…. The DOJ alleged that employees of Trident, which stopped writing mortgages in 2020, made racist comments about making loans to Black homebuyers, calling certain neighborhoods "ghettos" and one manager of Trident was photographed posing in front of the Confederate flag.
Tiger Global-backed Missfresh stops paying salaries as it runs out of cash [FT]
An executive at the Tiger Global-backed company told employees on a hastily arranged call that an expected investment from a coal mining group had not materialised, and that it could not pay overdue June salaries…. Missfresh delivery riders, dressed in hot pink uniforms and zipping groceries across Chinese cities, were a symbol of the breakneck rise of a new generation of internet start-ups in the country. The company attracted more than a billion dollars of cash from investors including tech-focused hedge fund Tiger Global and Goldman Sachs….
Last June, Missfresh raised almost $300mn in a Nasdaq initial public offering led by JPMorgan and Citigroup, valuing the start-up at $3bn.