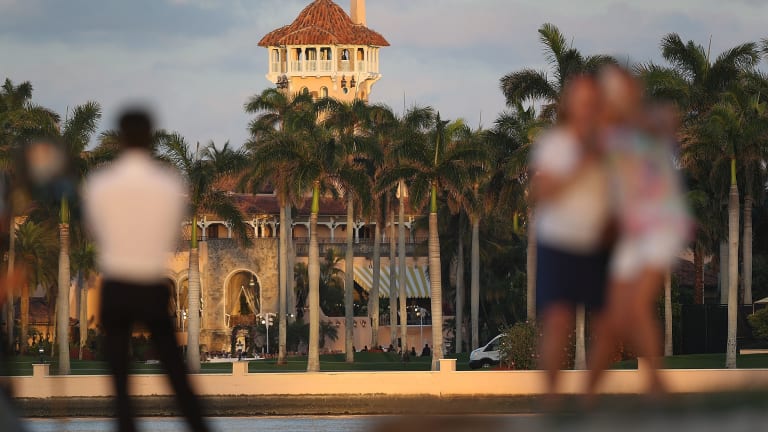 Trump Lawyers Rant About 'Assault' On Mar-A-Lago After FBI Removes Boxes Of Classified Docs
Best defense is a good offense, right?
Last night, shortly after the Washington Post revealed that some of the items seized under warrant from Donald Trump's Florida golf club may have contained nuclear secrets, the former president demanded that the Justice Department "Release the documents now!"
We'll find out this afternoon whether Trump's legal team will come up with some tortured rationale why that does not, in fact, mean that Trump assents to the release of the perfect, perfect warrant and inventory of items taken from his residence. Maybe they'll realize that the current plan, now that Attorney General Garland has called their bluff, is to demand the underlying affidavit — since it's pretty clear that the DOJ is never going to give them that.
In the meantime, Trump's lawyers are in a competition to see who can say the absolute craziest shit on live television.
Alina Habba got the ball rolling Wednesday on Fox with Sean Hannity, where she tut-tutted that "posturing and politicking has become so much of this country's dynamic" and worried that "we're going to be Cuba" if a former president who refused to hand over improperly retained classified material can be subject to the judicial process. This is the same attorney who sent a cease and desist letter to the Pulitzer board demanding that it revoke prizes awarded to the New York Times and Washington Post for their Russia coverage and is currently suing Hillary Clinton for doing The RICO to Donald Trump.
Habba followed this up with Fox's Jesse Watters, where she joined the horde of MAGAworld luminaries baselessly accusing the FBI of planting evidence on poor, innocent Donald Trump when they came to retrieve classified documents he'd hung onto after receiving a subpoena and a personal visit from the head of the Justice Department's counterintelligence division.
Eric "Dunning-Kruger" Trump huffed to the Daily Mail that the FBI hadn't even given Trump's lawyer Christina Bobb a copy of the warrant, only to be immediately contradicted by Bobb herself who conceded that she had both the warrant and the inventory. But she wasn't sharing them!
She would, however back up Eric Trump's allegation the the family watched the raid in real time on security cameras.
Let's take a wild shot in the dark that if there was any evidence that the FBI "planted" something on Trump, we'd be seeing that tape played on loop on Fox.
Bobb, whose former gig was as a host on the conservative One America News Network, was like, almost certain there was no nuclear information in the items seized, because Trump's famously competent lawyers would have caught something like that.
But former Florida Attorney General Pam Bondi won the nightly prize for crazytalkin' on the teevee in a rout.
"They did an execution on land, on sea, by air," shouted the lawyer who represented Trump in his first impeachment. "They had agents in the water, agents in the air. You may have only seen 30 to 40 on the ground, but there were hundreds of agents that had to have been weaponized to pull the assault off at Mar-a-Lago that day and that night."
It was like D-Day meets Call of Duty! Or, you know, nothing like that.
As Merrick Garland reported in a press conference yesterday, the FBI showed up with just a couple dozen unarmed agents in plain clothes, clearly hoping to minimize the publicity from the raid. It was the Trump family who took it to DefCon 1 by screaming about it on social and turning it into a media event. There were no speedboats full of little green men, no tanks, no choppers, and no "assault," amphibious or otherwise.
But, as the Wall Street Journal just reported, there were "11 sets of classified documents, including some marked as top secret and meant to be only available in special government facilities." The Journal just got its hands on the warrant and the inventory, which means we'll probably all get them in a couple hours when Judge Reinhart grants the DOJ's request to unseal them.
Happy reading!
Liz Dye lives in Baltimore where she writes about law and politics.
For more of the latest in litigation, regulation, deals and financial services trends, sign up for Finance Docket, a partnership between Breaking Media publications Above the Law and Dealbreaker.