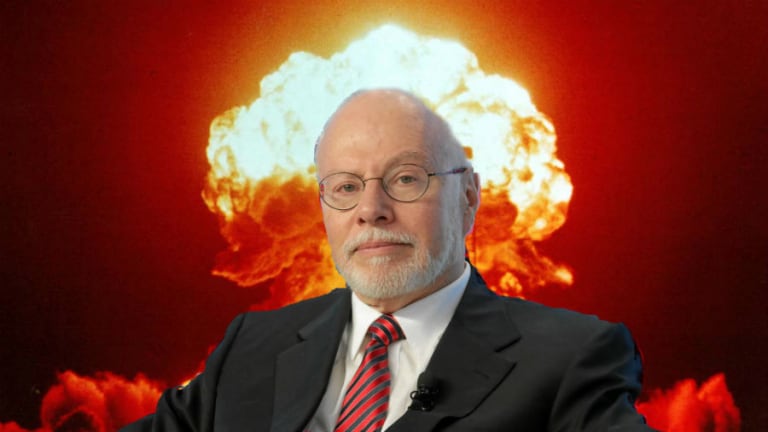 Hey, This Whole Citrix Deal Could Have Been A Whole Lot Worse
Rationalizing the $600 million hole in banks' bottom line.
Back in January, when Paul Singer was looking for a little help buying Citrix Systems, interest rates were still near zero and the Elliott Management chief didn't have to look far: More than 30 banks and other players were eager to underwrite the $15 billion in debt needed to make deal happen—and at very fair rates, indeed.
Now, of course, interest rates are a good deal higher than zero. Indeed, they got a good deal higher just today. And so those who the aforementioned banks hoped to sell that debt on to are a good deal less keen on it than the banks were eight months ago.
Wall Street banks are poised to realize roughly $600 million of losses after offloading financing commitments for the buyout of Citrix Systems Inc. to investors Tuesday, the culmination of months of work to try and mitigate the damage from underwriting pledges made early in the year before a sharp repricing of risk assets…. The damage could have been even worse had they tried to sell the entire financing package to money managers, with losses likely exceeding $1 billion in such a scenario. Yet that means banks are also keeping a significant portion of the risk on their balance sheets for what's likely to be an extended period.
Still, it was fun while it lasted. So much so that those banks will be happy to do it all over again… eventually.
"There is no lesson learned. This has happened time and time and time again," [Brandywine Global Investment Management high-yield portfolio manager John] McClain said. "Banks are going to aggressively underwrite deals at the top of the market and then something bad is going to happen…."

Overall, banks still have a significant amount of announced acquisition and buyout financing that must eventually be sold to investors: about $23.6 billion for high-yield bonds, and around $32 billion for leveraged loans…. Apollo Global Management Inc.'s co-head of private equity David Sambur said that even the successful financing of the Citrix debt package won't be enough to convince banks to commit to funding buyouts again -- at least not soon. Banks are unlikely to fund big deals until at least the fourth quarter as economic uncertainty hangs over financing, he said.
Wall Street Banks Set to Lose About $600 Million on Citrix Debt [Bloomberg]
Fed raises rates by another three-quarters of a percentage point, pledges more hikes to fight inflation [CNBC]
For more of the latest in litigation, regulation, deals and financial services trends, sign up for Finance Docket, a partnership between Breaking Media publications Above the Law and Dealbreaker.