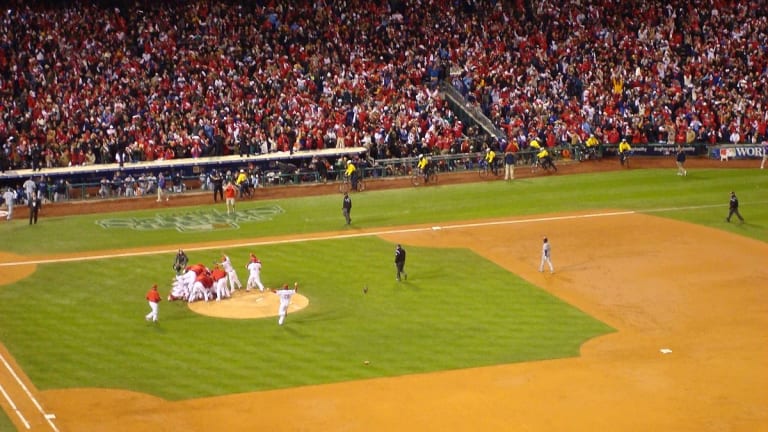 Opening Bell: 10.27.22
I don't care about the economy GO PHILLIES!
What recession? The U.S. economy was growing again last quarter, Commerce Dept. estimates [Fortune]
The U.S. economy grew at a better-than-expected 2.6% annual rate from July through September, snapping two straight quarters of economic contraction and overcoming punishingly high inflation and interest rates…. Consumer spending, which accounts for about 70% of U.S. economic activity, expanded at a 1.4% annual pace, down from a 2% rate from April through June. Last quarter's growth also got a boost from exports, which shot up at an annual pace of 14.4%.
ECB hikes rates by 75 basis points and scales back support for European banks [CNBC]
Market participants had also questioned whether the central bank would be providing details about when it will start reducing its 8.8 trillion euro ($8.8 trillion) balance sheet, in a process known as quantitative tightening…. [President Christine] Lagarde said that the conditions to take this step will be discussed in December, but she added that her team will be looking at three main factors: the inflation outlook, the measures taken so far, and the transmission lag — given that it takes a while for the monetary decision to have an impact on the economy….
The ECB confirmed that its rating hike cycle is not yet over.
US firm Nuveen buying one of Europe's largest private lenders for over $1bn [FT]
The acquisition comes amid a wave of dealmaking activity in the alternative asset management sector, particularly for private credit lenders that have increased their share of takeover financings this year as large banks pull back from making buyout loans…. Anthony Fobel, chief executive of Arcmont [Asset Management], said the firm's sale to Nuveen, which manages $1.1tn in assets, will help the London-based firm quickly expand globally and increase the size of its lending commitments.
Bed Bath and Beyond names a new CEO [CNN]
The beleaguered retailer has tapped interim leader Sue Gove to the position permanently. She's held the position for the past four months following the exit of its former CEO Mark Tritton, who failed to turn around the company…. "At this point in time, consistency and a steady hand on the tiller are far more important than getting a different CEO who wants to shake things up or start putting in place new plans," [GlobalData managing director Neil] Saunders wrote in a note.
Hedge Fund Redemptions Reached an Unusual High in September [II]
Net hedge fund outflows reached $21 billion in September this year, almost twice as large as the September average from 2014 to 2021, according to the latest asset flow report from eVestment, which is part of Nasdaq. It was the fourth consecutive month in which hedge funds had negative inflows…. The net outflow in the first three quarters reached $63 billion, putting 2022 on track for the second-largest annual net outflow since 2009….
If the Philadelphia Phillies Win the World Series, Prepare for an Economic Crisis [WSJ]
Their 1929 championship preceded the stock crash and Great Depression. In 1980, the Phillies won their first World Series, and a recession raged right through 1983, when the team again got to the final round and lost. The Phils won the World Series a second time in 2008, and boom: a home-run financial crisis…. Mark Zandi, chief economist at what is now called Moody's Analytics, speculates that because the Phillies have won the World Series so few times, when they do, "It is clear something is off the rails in the cosmos." As a Philadelphia native, he says he will cheer a Phillies championship, "but I will also be buckling in."