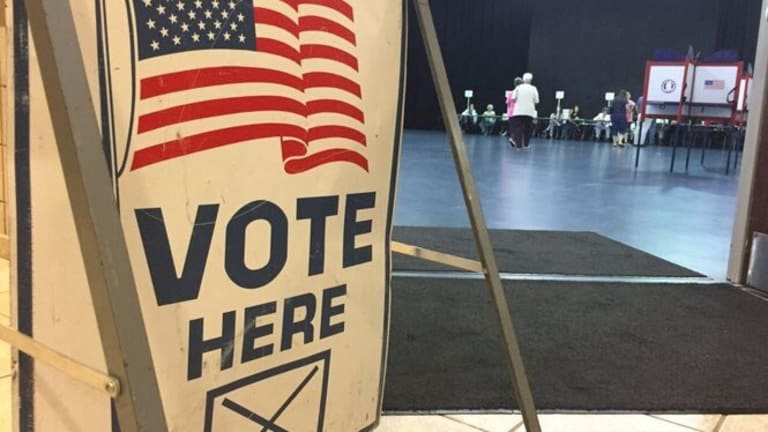 Opening Bell: 11.8.22
Hedge funds hedge; private equity plays politics; bitcoin battered by crypto crack-up; and more!
Hedge Funds Slash Risky Bets Ahead of Midterms, CPI Data [Bloomberg]
"I'm not willing to take the headline risk one way or the other," said David Reidy, founder of First Growth Capital LLC. "There's too much up in the air especially with the elections and the CPI print to be fully into any particular directional trade…." One measure of implied volatility for S&P 500 contracts showed a roughly 40% increase through Wednesday, a period that covers the US elections and ends right before the inflation update on Thursday morning. That means, traders are willing to pay up to hedge against any potential turmoil around these catalysts.
Private Equity Spends Nearly $150 Million to Fuel 2022 Races [WSJ]
The sum is the most the buyout industry has ever spent on a nonpresidential election cycle, according to data from the Center for Responsive Politics, a nonprofit group in Washington that tracks political spending. The total is 26% more than the industry's former record, set in the 2018 midterm elections…. Private equity typically divides its spending fairly evenly between the two major parties, and this election is no exception. Democratic candidates and groups received 54% and Republicans 46% of the industry's contributions as of Oct. 28….
Elon Musk Is Bad at This [The Atlantic]
Musk's fans see the billionaire as a visionary, but it's worth noting that many casual observers—people whose only real understanding of Musk is as the guy who put the fancy electric cars on their streets—have also internalized the heuristic that he is Good at Business and the type of man who spends his waking moments dreaming of how to save humanity from its existential problems. But what the past two weeks demonstrate is that Musk is, at best, a mediocre executive—and undoubtedly a terrible, distracted manager.
Berkshire Sold $5 Billion of Financial Stocks, Possibly Citigroup and Bank of NY [Barron's]
Berkshire Hathaway reported a 20% rise in operating earnings to $7.8 billion in the third quarter on Saturday, and also released its quarterly 10-Q, which has some detail on the company's equity purchases and sales.
Bitcoin and FTT Prices Drop After FTX-Binance Tussle [WSJ]
Bitcoin fell 4.4% Tuesday from its late-afternoon level ET Monday to trade below $20,000…. [Binance founder Changpeng] Zhao this week signaled skepticism about the stability of a digital coin called FTT, which is a key asset produced by Mr. Bankman-Fried's FTX. Mr. Zhao said last weekend it was poised to sell a chunk of the token in the coming months for "risk-management" purposes.
FTT's value, which held steady in recent days, gave way Tuesday. It shed nearly a fifth of its value from 24 hours prior, trading at $18.32 a piece, according to data from CoinDesk.
Bid for New Trial Fails, Elizabeth Holmes Awaits Sentencing [AP via U.S. News]
Besides rejecting Holmes' claim that a 10-minute visit [former Theranos lab director Adam] Rosendorff made to her Silicon Valley home in August raised questions about misconduct at her trial, [U.S. District Judge Edward] Davila also rebuffed two other motions for another trial in his 15-page ruling. One motion revolved around a description prosecutors made about her former lover and business partner, Rawesh "Sunny" Balwani, during closing arguments. The other motion focused on a dispute over whether the government withheld evidence pertaining to a Theranos database containing results of its blood tests.
Davila has scheduled Nov. 18 as the day he will sentence Holmes, 38, for four felony counts of investor fraud and engaging in a conspiracy with Balwani. Earlier Monday, Davila postponed Balwani's sentencing for his conviction on 12 counts of investor and patient fraud from Nov. 15 to Dec. 7.