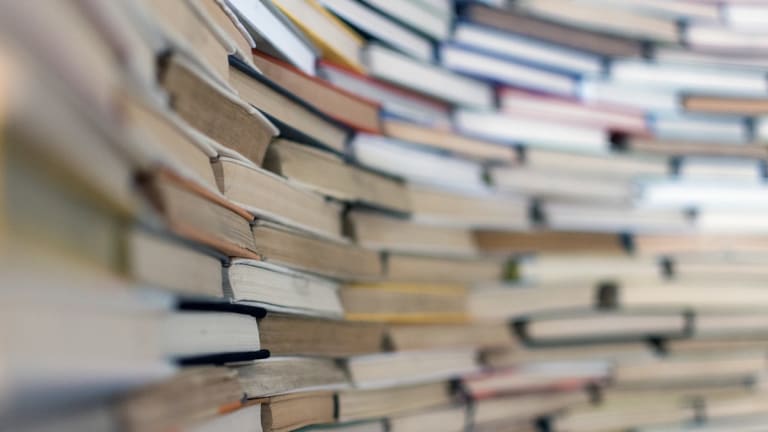 15 Of The Best General-Interest Nonfiction Books To Add To Your Reading List In 2023 And Beyond
Pick out a few of the best-sounding titles and add them to your reading list.
Some two years ago, finding that I'd had plenty of time for reading once pandemic-related lockdowns started, I put out a list of the 15 best nonfiction books I'd read over the preceding 12 months. A year after that, I did it again. I've kept up the (in my view) good reading habits since.
There's something to tradition, to ritual. And hey, it's just fun to share things you like with people you give a damn about — your readers, for instance. I'm figuratively sick of measuring the passage of time by the ebbs and flows of a respiratory virus though. So, with that in mind, here are 15 of the best nonfiction books I read during calendar year 2022, and that I could heartily recommend for your reading list in 2023 and beyond.
Desert Solitaire by Edward Abbey
You'll find yourself dreaming about the landscapes of Arches, Moab, and Canyonlands. If you've never been to that part of the West, this will make you want to go. If you have been there before, it'll make you wish you'd stayed.
Stanley: The Impossible Life of Africa's Greatest Explorer by Tim Jeal
In our times, a historical figure like Henry Morton Stanley could easily be written off as a violent colonizer at worst, or a forgettable crossword answer at best (Stanley probably didn't really say, "Dr. Livingston, I presume?" but you'll have to read the book to find out why he claimed he did). The reality is rewardingly richer than whatever soundbite history is out there concerning HMS. Stanley is a figure of inspirational strength, grit, and, yes, fundamental decency. This compelling story of his life reads like an adventure novel.
Gathering Moss: A Natural and Cultural History of Mosses by Robin Wall Kimmerer
Perhaps Jerry Seinfeld cannot return a jacket out of spite, but spite is a perfectly acceptable reason to read a good book. Prove your loved ones who scoff at the idea of a readable book about moss wrong (and there will be plenty of them). Plus get an introduction to Kimmerer before tackling the exponentially more popular "Braiding Sweetgrass."
How to Ruin a Queen: Marie Antoinette and the Diamond Necklace Affair by Jonathan Beckman
The Affair of the Diamond Necklace is the slick 18th century grift you didn't know you were missing. My favorite element of the scam? A courtesan passed off as the queen. Sort of what you'd get if Elizabeth Holmes had plied her trade 240 years ago in Versailles.
The Death and Life of the Great Lakes by Dan Egan
To gaze upon America's great inland seas brings the word "eternity" to mind. Yet, despite the majesty and the scale of these bodies of water, the Great Lakes are ecologically delicate, as Egan explains here in fascinating detail. This story will suck you in like an invasive zebra mussel filtering through plankton-rich freshwater.
The Dragon Seekers: How an Extraordinary Circle of Fossilists Discovered the Dinosaurs and Paved the Way for Darwin by Christopher McGowan
The gradual ascent of our species from eons of ignorance and mysticism is a compelling topic. The buried bones of gigantic ancient reptiles played an important role in that journey. This is among the many great titles to explore why we needed evidence as unsubtle as man-sized dinosaur femurs to clobber us out of our traditional stupor.
Fantastic Fossils: A Guide to Finding and Identifying Prehistoric Life by Donald R. Prothero
And if you'd like to try your hand at finding some evidence of ages past yourself, you could sure do worse than this thorough introduction to the where, why, and how of fossil hunting. Not quite field guide, not quite academic text, you'll find it well worth your time if you never lost that childhood fascination with dinosaurs.
The Bounty: The True Story of the Mutiny on the Bounty by Caroline Alexander
I won't go a whole year without reading at least one true tale of misadventure on the high seas, and neither should you. Get your fix with more facts than you could ever need to know about the voyage of the Bounty, along with no shortage of insights into human nature.
Death in Glacier National Park: Stories of Accidents and Foolhardiness in the Crown of the Continent by Randi Minetor
This title is part of a series of books chronicling deaths in some of America's most popular national parks. Given that I typically try to read something about a place I'm visiting for the first time before I get there, and that I was visiting Glacier National Park at an inhospitable time of year, I viewed this book both as entertainment and as a good precaution against ending up in future editions. For anyone who has been to Glacier National Park or intends to get there someday, this will inspire even more respect for an awesome landscape.
Between Man and Beast: An Unlikely Explorer and the African Adventure That Took the Victorian World by Storm by Monte Reel
The Smithsonian National Museum of Natural History has more gift shops than are strictly necessary, but I was nonetheless happy that my philosophy of searching for overlooked books in museum gift shops paid off with this one. Transport yourself to a time not so long ago when the gorilla was almost a mythical creature and when anyone with enough determination could become a scientific pioneer.
On Juneteenth by Annette Gordon-Reed
Get an eminent historian's take on our brand-new national holiday, all in a slim little volume that you could devour in one sitting. Although there is something for every American here, it's definitely not homework.
Rainy Lake House: Twilight of Empire on the Northern Frontier by Theodore Catton
Maybe you haven't spent a lot of time thinking about the fur trade along our border with Canada in the 1800s. You will, though, if you pick up this book. It's required reading should you ever visit Voyageurs National Park.
Grand Excursion: Antebellum America Discovers the Upper Mississippi by Steven J. Keillor
There's no violence, no sudden societal upheavals, just a flotilla of bigwigs steaming up the Mississippi to celebrate the first rail line connecting Chicago to that great river. Somehow, it works — makes one pine for more such celebrations of civic progress. Of course, the Civil War was brewing at the time, so that was a problem.
Servants of the Damned: Giant Law Firms, Donald Trump, and the Corruption of Justice by David Enrich
I thought this was going to bore me, because I already know that the justice system is corrupt and already hate Donald Trump. It didn't though. Fan the flames of your righteous indignation by following along with the slow degeneration of Jones Day.
Owls of the Eastern Ice: A Quest to Find and Save the World's Largest Owl by Jonathan C. Slaght
I normally don't rank books internally within my top 15 list. This one might call for an exception. "Owls of the Eastern Ice" is the best book I've read in a long, long time. While the author uses modern, rigorous methods and the latest technology (to the extent it will survive the harsh environment of the Russian Far East), it's not hard to see echoes of the Victorian era adventurer-scientist in Dr. Slaght — to say nothing of his colorful cast of local field assistants. You'll laugh, you'll cry, you'll ultimately surprise yourself by falling in love with the elusive fish owls the author seeks so desperately to protect.
There you have it. Pick out a few of the best-sounding titles and add them to your reading list. And as you get reading, don't be shy about dropping me a line with your thoughts on any of these recommendations.
Jonathan Wolf is a civil litigator and author of Your Debt-Free JD (affiliate link). He has taught legal writing, written for a wide variety of publications, and made it both his business and his pleasure to be financially and scientifically literate. Any views he expresses are probably pure gold, but are nonetheless solely his own and should not be attributed to any organization with which he is affiliated. He wouldn't want to share the credit anyway. He can be reached at jon_wolf@hotmail.com.