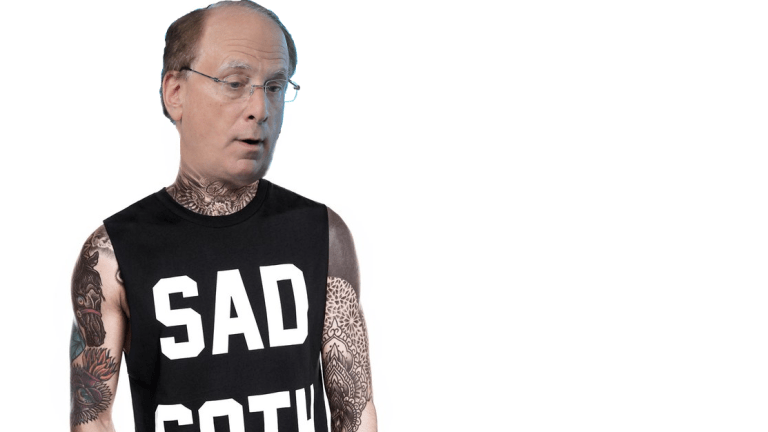 Layoffs Watch '23: BlackRock
The anti-woke brigade takes its first 500 scalps. Or maybe it's other things.
The world's biggest asset manager is getting smaller: Larry Fink is handing out about 500 pink slips at BlackRock, and I think we all know why.
The company hasn't conducted a major round of layoffs since 2019 and has increased its headcount by about 22% over the past three years, a BlackRock spokesperson told MarketWatch, adding the job cuts are coming in the face of an "unprecedented market environment."
Nice try, Larry, but we all know it's because Florida Gov. Ron DeSantis yanked 0.0002% of your $10 trillion. Put as brave a face as you want on it, but we all know that you're feeling the pain of the righteous campaign against wokeness rising over the Sunshine State. And the tragedy, at least for those 500 people, is that it didn't have to be this way, if only you'd done what class warrior Paul Tudor Jones is now telling you to do.
"ESG is incorrectly characterized," Tudor Jones said on "Squawk Box" on Tuesday. "Certainly, by what the American public tells us, it should be SGE."

The specific component of "S" that Tudor Jones says should be the focus is workers and job creation….

Tudor Jones said that [his Just Capital's] rankings, environmental issues "comes way down the list."

He noted that 44% of the rankings "are all centered around worker issues."

"Americans are becoming hyper-focused, as they should be, on worker treatment and welfare," he said. "Who remotely could be against that?"
Uh, Paul, have you seen what's going on in Washington, Austin and Tallahassee these days? We're pretty sure we could find at least 20 members of Congress and a large number of Republican governors with White House ambitions who would be more than remotely against it.
BlackRock is cutting 500 jobs as Wall Street layoffs continue [CNN]
Paul Tudor Jones, hedge fund billionaire, wants to do away with 'ESG' [CNBC]